BIOGRAPHIES



Big Chuck Schodowski
As you all know, Big Chuck is a Local Legend when it comes to the television in the North Eastern Ohio Area. He is always involved with the community, everytime you see him, he is either on television, hosting a charity, doing a commercial for a business or a grand opening somewhere. He's became a very positive influence in Northeast Ohio and the surrounding area.

I will always remember the good old days, when I used to visit my friends in Maple Heights during the Fall Season and get a chance to see Big Chuck and Lil John in the Thanks Giving Parade. Boy, Talk about the Good Old Days. It sometimes makes you wonder how Chuck has time to work at WJW (FOX8) and do all of these events, but I guess he schedules himself very well.

Before I get into more about Chuck, I would like to mention that if you have any stories or memories that you would like to share, feel free to discuss them on the Big Chuck and Lil John Forums.




born June 28, 1934.

Chuck was born in cleveland, OH. He graduated from High School in 1952 and went to work in the foundry. Four years later he married his high school sweetheart in 1956. The following year he started National Radio School, where he learned radio and television repair and earned his "First class FCC license"

In 1959 he began a one year course of study for the police and firefighters exam. A year later Chuck passed the exam with flying colors, but also passed his "First class FCC license" He skipped the Cleveland Police appointment and decided to start working at KYW (now WKYC-Channel 3) as a summer replacement engineer in 1960.

Shortly after, Chuck became friends with Ernie Anderson "Ghoulardi" "The Voice of ABC" You've probably heard him say "On the Luvvvv' Boat" many times, and is still doing the ABC show promos. He is now, of course, the announcer for "America's Funniest Home Videos" and "America's Funniest People". And thus was the perfect choice as announcer for "Guardin' the Garden."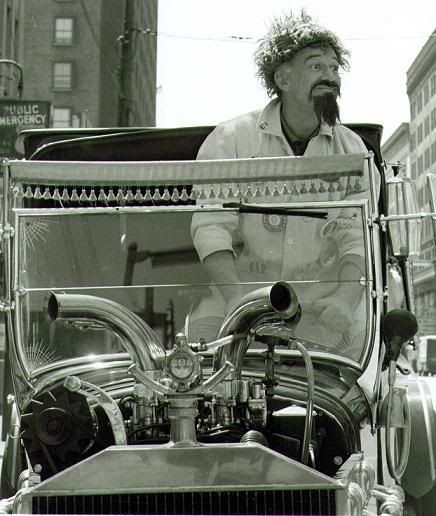 Ernie "Ghoulardi" Anderson

In the fall of 1960 Chuck became the full time engineer of WJW (TV8)(Fox8) and two years later Ernie Anderson followed Chuck over there to do the the afternoon movie show "Ernie's Place."

Joining Ernie to help with the show was comedy writer and Chagrin Falls native Tim Conway (then known as Tom). They told WJW that Tim was a director. He wasn't.

During this time Tim and Ernie did some very funny material. Rose Marie, then of the "Dick Van Dyke Show," showed their tape to Steve Allen. He liked it and said, "Send me the little chubby guy. I can do the other guy's part."

Tim left for Hollywood to become one of Steve Allen's "Men on the Street" along with Louis Nye and Don Knotts. Shortly after that, Tim was to star on the classic sitcom "McHale's Navy" and later "The Carol Burnett Show."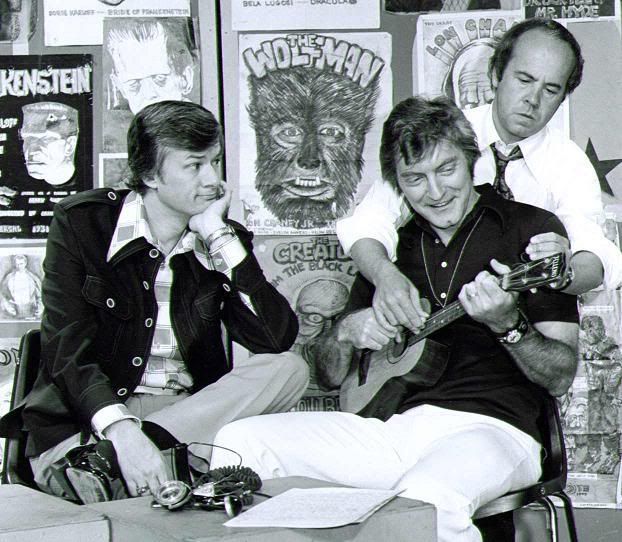 Tim Conway, Hoolihan, and Big Chuck

In 1963 Ernie became the late night off-beat horror host known as "Ghoulardi," and began using Chuck in some of his skits. Chuck was very reluctant at first. From January 1963 through September 1966, the "Ghoulardi" show would set Cleveland on its ear. People around the country knew about this show. "Ghoulardi" still holds local market ratings records!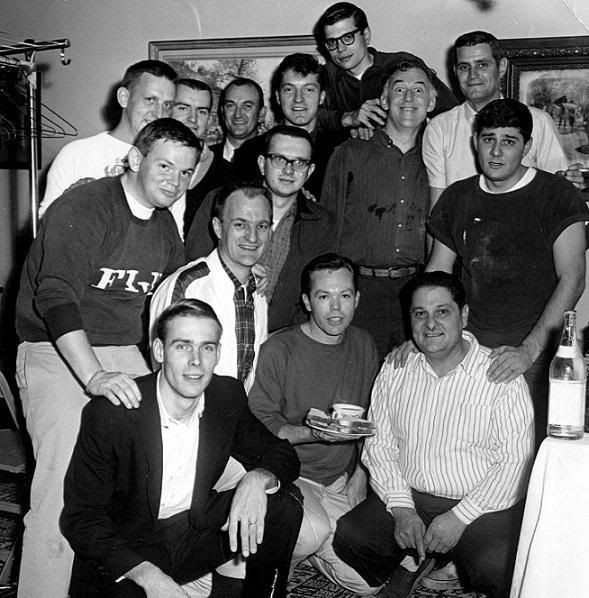 Ralph Tarsitano, Ernie Ghoulardi Anderson, Big Chuck, Dick Goddard and others
(Try and figure out who is who)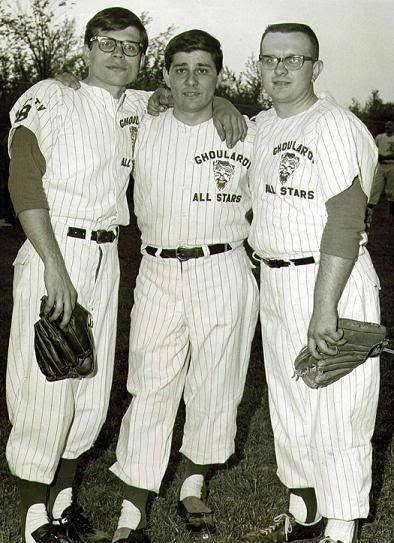 Ernie quit the show in 1966, and with his friend Tim Conway pulling some strings, went to Hollywood to try network announcing. Over the years he became one of the top voice-over talents in the country, heard most notably as the voice of the ABC network and on national commercials.

Meanwhile, everyone in Cleveland auditioned to replace "Ghoulardi," including one of WJW's weather forecasters Bob "Hoolihan the Weatherman" Wells. Knowing Chuck had produced some of the "Ghoulardi" shows, Hoolihan asked Chuck to help him with his audition.

Channel 8 liked the chemistry between Hoolihan and Chuck , and in December 1966, the "Hoolihan & Big Chuck Show" was born. The show was very successful, creating many characters and comedy features that still survive today: Ben Crazy, Kielbasa Kid, New Talent Time, A Certain Enthic Group, and the list goes on. They developed a cast of regulars (Art Lofredo, Lil' John, Marianno "Mush-Mouth" Pacetti) that Cleveland fell in love with.



Keilbasa Kid

In September 1979, Hooli decided to leave the show for a TV job in sunny Florida. As producer of the show, Chuck decided to continue with Lil' John Rinaldi as co-host, and the "Big Chuck & Lil' John Show" had a new beginning, keeping many of the previous skits and characters. Lil' John and Chuck also added Bill Ward, Paula Kline, Mary Allen and others to the cast of regulars.



Big Chuck and Lil John

The show's movies have changed over the years, from sci-fi and horror "B" films to bigger box office hits of all kinds, such as "Terminator II" and "Friday the 13th."

They've been fortunate to feature many well-known celebrities in their skits.

After doing their job for more than 30 years (in addition to producing and directing other projects at the station), they still produce new skits with Lil' John and the cast, like "Cuyahoga Jones" and "Batguy and Rinaldi." They also play charity basketball and softball games with the "Big Chuck & Lil' John All-Stars" and participate in several other local charity events throughout the year.



Big Chuck and Lil john at a charity event

Chuck and his wife June have raised five children and enjoy 10 grandchildren, with two more on the way. Their family has always stayed close. In fact, you might have seen some of his family in some of their skits.

In Chuck's own words:

"Yeah, I could have been a policeman or firefighter. But looking back, I think I'd rather play one on TV."

John Rinaldi, a.k.a. Lil' John

Just Like Chuck, John is always involved with the community, almost always with his side-kick Chuck doing events.

(If you see one, just turn around, because you will probably see the other one.)




John Rinaldi, known throughout Northeast Ohio as "Lil" John," is co-host of the Emmy Award-winning BIG CHUCK & LIL' JOHN SHOW, seen Saturday afternoons and at midnight on FOX 8.

Prior to joining "Big Chuck" Schodowski as the program's co-host in September 1979, Rinaldi served as a regular in various skits and productions for ten years on FOX 8's HOOLIHAN & BIG CHUCK SHOW, the forerunner to the BIG CHUCK & LIL' JOHN SHOW.

A graduate of Cleveland's John Adams High School, Rinaldi attended The Ohio State University and graduated with a degree in marketing. In December 1980, John opened his own jewelry store in downtown Cleveland, Rinaldi Jewelry, after being associated with Cowell & Hubbard Jewelers since 1968.

Rinaldi has won 12 local Emmys and a Cleveland Addy Award. Throughout his career he has earned more than 250 service awards for his active involvement in numerous community service and fund-raising projects. He was inducted to the Broadcasters Hall of Fame in 1996. He was also presented the prestigious Silver Circle award in 1995. Rinaldi is the official celebrity spokesperson with Our Lady of Wayside Homes. John was awarded the Cystic Fibrosis Volunteer Man of the Year Award in 1990. John has helped raise millions of dollars for charity organizations.

John annually participated in the local portions of the national Jerry Lewis Muscular Dystrophy Telethon. He has also served as the celebrity chairman for several charity golf outings.

A native of Cleveland and resident of Solon, Rinaldi enjoys sports and making people laugh. He and his wife Sherry have two sons, John and Dino, daughter-in-law Becky and grandchildren Abbey, Evan and Elena. John stands 4'3" tall, weighs 100 pounds and has brown hair and brown eyes.



Big Chuck & Lil John sporting ESPN shirts
(pun intended...)



A picture from when John first started.